Cris af Enehielm is a celebrated Finnish painter, actor and performance artist. A major exhibition of her work is currently running at the Helsinki Art Museum.
My favourite view in Helsinki is from Mattolaituri, a restaurant on the city's southern shore. You can relax by the sea and have a drink or grilled food while you watch people washing carpets, a ritual they love to do to prepare the carpets for use after winter. It is next to Kaivopuisto, a huge park where you can play chess outdoors.
Where to live
I have just moved to Jätkäsaari, a developing area in west Helsinki that used to be a harbour. It is surrounded by the sea, but very urban. The whole place is a huge construction site with buildings popping up in different colours and shapes. I don't know yet if I will find myself here, as I like older surroundings.
Where to enjoy culture
In the summer the whole city opens up for all kinds of cultural events, large and small, and for all tastes and wallets. Helsinki Festival is my favourite event; it runs in late summer, offering a national and international cocktail of dance, music, theatre and exhibitions.
At other times, the main galleries I visit are Galerie Anhava, and Galerie Forsblom, both in central Helsinki, where I have exhibited during my career.
Where to be outdoors
For me, Helsinki is the best summer city in Europe. It is surrounded by the sea and islands you can reach by ferry. The sounds of seagulls and flocks of Canada geese are everywhere. I behave like a tourist in my own city, biking around all the places I would suggest to visitors.
More than any other capital city, Helsinki is great because of its pure nature. There are many beaches and it is possible to swim almost everywhere. Beaches that I like include Hietaniemi, on the western shore, and those on Pihlajasaari and Uunisaari islands.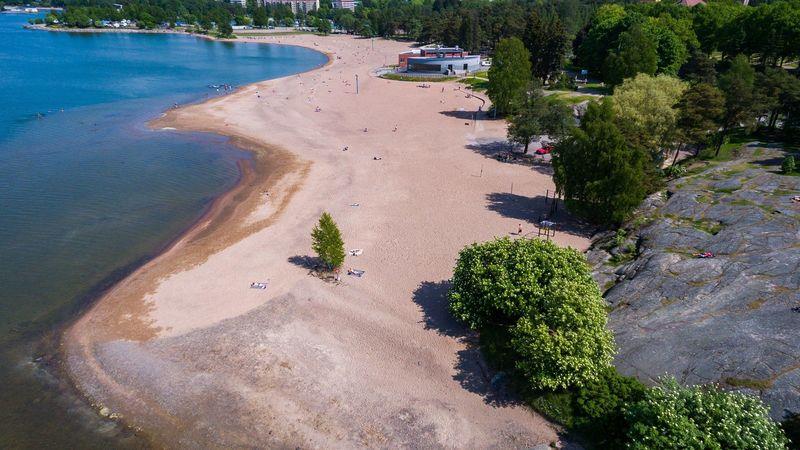 The city has many parks that are full of wildlife, and you don't need to worry about stress or crowds anywhere.
Where to go for a stroll — and a sauna
I would recommend a walk — or bike tour — by the sea, starting at Löyly, a restaurant in the former industrial area of Hernesaari. Löyly has very good food, a smoke sauna and spectacular sea views. Walking east along the coast will take you past beautiful buildings, sailing boats and islands.
Keep going and to the south-west you will see Suomenlinna, an inhabited former sea fortress built on six islands. It is well worth a visit. It is like a village, with its own special ambience.
Where to get coffee
In the central Market Square, located at the South Harbour, you can get your caffeine fix from the coffee stalls and try Finnish meat pastries if you eat meat. It is one of my favourite places.
From there you can see the big Russian Uspensky Orthodox Cathedral and the noble Helsinki Cathedral, designed by architect Carl Ludvig Engel, and completed in 1852.
Where to sip cocktails
If you want to experience the greatest views of the city, I recommend having a drink in the Sky Room bar in the Clarion Hotel in Jätkäsaar.
Where to grab a bite
My favourite cafeteria by far is Café Regatta, which is in Töölö, a western district. It is a small place: a red wooden cottage by the sea where you can sit by the fire, grill your own sausages and meet people, surrounded by an amazing mix of knick-knacks and curios.
Photographs: Katja Hagelstam; Peter Forsberg/Alamy; Hanna Kukorelli; Tero Sivula/Alamy; Sam Kingsley/AFP; Getty Images; Anders Skanberg/Scanrail/ Dreamstime; Mikhail Markovskiy/Dreamstime; Scanrail/Dreamstime
Related article: Architecture: Helsinki and its 100 years of quietude