In the smartest parts of Monaco, $1m would buy you barely enough floor space to park a car, according to data from Knight Frank, the estate agents. In the smartest parts of Nairobi, you could park a fleet of 20 London buses. Still, five years ago, it would have bought you a whole lot more.
"In general, all areas of Nairobi have seen exponential growth over the past five years," says Shaif Sharif, head of sales at Pam Golding Kenya, an associate of Savills, the estate agents. "More so in the first half of the past five years," he adds, when the city was experiencing house price increases of up to 20 per cent a year.
By Q2 2016, data from Hass Consult Real Estate showed that homes in the Kenyan capital had increased in value 4.34 times since 2000, with many citing rising demand from international buyers and a construction boom following the government's relaxation of planning laws as significant factors. "Most of metropolitan Nairobi is growing upwards rather than outwards," says Sharif. Unsurprisingly, local estate agents are in a bullish mood.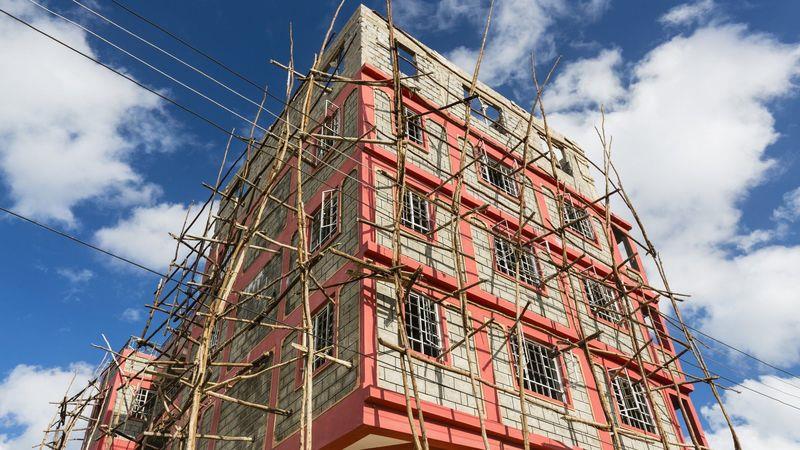 Or they were. In the past 18 months or so, prices have started to come down. As of Q2 this year, homes across the city were down 2.3 per cent year on year, according to Hass. Sakina Hassanali, their head of research and marketing, says investors are now focusing on rental yields rather than trying to flip properties to make hefty capital gains.
Ben Woodhams, managing director of Knight Frank Kenya, blames the slowdown primarily on an oversupply of new homes and the government's capping of interest rates, which banks say has reduced available credit.
According to a report by Cytonn, the investment company, the situation has been exacerbated by Kenya's political uncertainty. Incumbent president Uhuru Kenyatta's re-election in August was disputed by his main rival, Raila Odinga, and the results were subsequently annulled. A re-run of the election has now been set for later this month.
Not all areas of Nairobi seem to have been similarly affected by the price drops. Expat hotspot Karen has risen 2.9 per cent in the past year, according to Hass; Langata, just to the south, has risen 3.7 per cent (admittedly, it rose more than 17 per cent the year before). "Langata has been an upcoming area for the upper middle class because of its proximity to the central business district," says Sharif.
The area, which mostly consists of small housing developments, has been a target for foreign investors. Prices in the suburb start at between Ks12m-Ks14m ($116,000-$135,000) for a three-bedroom townhouse, rising to Ks150m ($1.5m) for a six-bedroom detached house with a few acres of land.  
Until recently, Nairobi's satellite towns had experienced rapid growth. Ruaka, Syokimau and Juja have all increased between 1.9 and 2.7 times since 2007, but all have experienced drops of between 2 and 3 per cent in the past year.
"The Kenya presidential elections have not been a smooth ride [and] could damp both foreign and local investor confidence," says Sharif. "An economic growth forecast of less than 5 per cent, with inflation of nearly 8 per cent, would also be a barrier [to growth], unless things improve in the short term."
Many agents are confident that the property market in Nairobi will return to growth, though. "Seriously," says Woodhams, "next year should see a market recovery, as Nairobi remains the regional hub and has seen consistent growth as a result."
Photographs: RZ_Images/Alamy; Chris Whiteman/Alamy; Tony Karumba/AFP/Getty Images; Dreamstime; Eunika Sopotnicka/Getty Images/iStockphoto