There is something a little unreal about Alberto Campo Baeza's Golden House in Mexico. It looks almost like a caricature of modernism: pure, white, perfect. This is the kind of minimalism that might make you a little nervous, that might make you wonder whether this kind of architecture is actually inhabitable or whether it is more suited to an art gallery; the archetypal white cube. But, then again, it has been designed by Campo Baeza, one of Spain's most underrated contemporary architects and a figure who has been developing this particular brand of purist, abstract modernism since the 1970s, way back during Franco's dictatorship, when he was given few opportunities to build.
His architecture is uncompromising, fiercely stripped down yet spectacular. Campo Baeza plays with volume and light, solid and mass like a sculptor. The sky is always present and his finest houses create their own horizons, framing the landscape like a painting.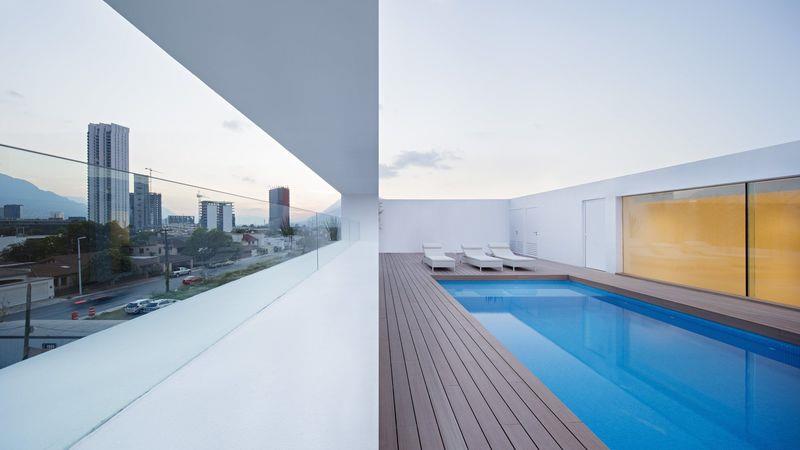 Amid this remarkable artifice, the pretence that architecture can be art, he also creates sublime spaces. In this house it is composed of two interlocking, double-height volumes clearly influenced by the ideas of Adolf Loos, the Viennese architect whose memory always seems deeply embedded in Campo Baeza's buildings.
But here Loos's influence is countered by a splash of inspiration taken from Luis Barragán, a Mexican architect who used colour to bond the abstract forms of modernism to the local landscape, flora and folk traditions. Campo Baeza employs an entire wall of gold that illuminates the inside with a warm glow, leavening the cool whiteness of the interiors.
Each layer of living has its terraces and its courts; the exterior spaces are conceived every bit as much as rooms as the interiors. Arguably the roof terrace with its pool and its long, framed view of the hills is the key room here, the culmination of a vertical journey. The house terminates in a room in which the ceiling is the sky and the art on the walls is a window to the horizon.

This is demanding architecture. Minimalism can be a little intolerant of everyday life. But that, perhaps, is the price you pay for the sublime.
Photographs: Javier Callejas
Related article: Who's going to build Trump's wall?
Related series: FT starchitects
Related article: At $250m, this is America's most expensive house
Related article: A riverscape of super-sized paper clips in London