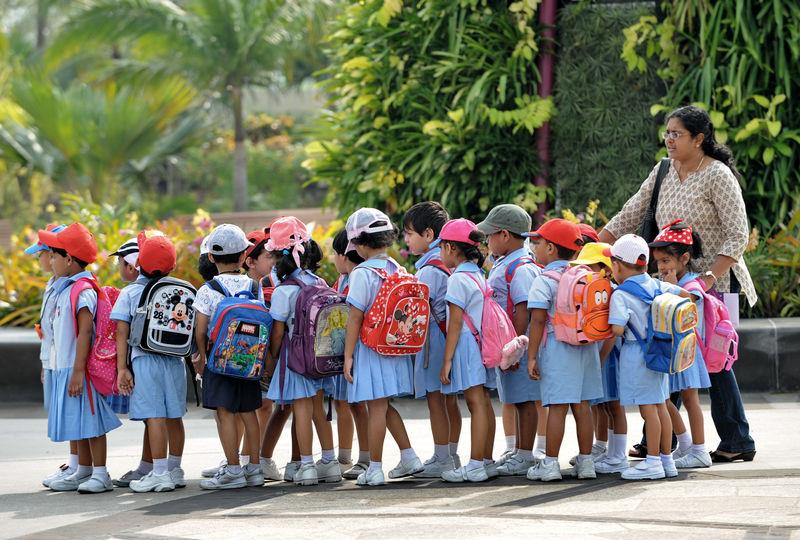 Singapore's schools have a top world ranking. The city-state holds the number-one spot for reading, science and maths in the OECD's Pisa rankings, which are based on tests taken by more than half a million 15-year-olds in over 70 countries.
Expat pupils have plenty of choice: there are 109 English-medium international pre-school, primary and secondary schools, according to ISC Research, the data provider. So what are the picks for the main international curricula?
International baccalaureate 
Learn The Australian International School, 9km north of downtown in District 19, teaches pupils aged two to 18. The Australian national curriculum is also available. More than 300 staff teach 2,600 students from 55 countries. Pupils averaged 34/45 IB points in 2016, compared with a global average of 30.07.
Pay* S$41,516 ($29,806)
Live A five-bedroom, semi-detached house 2km from the school is part furnished, has covered parking and a pool.
Available for rent through Savills, S$2,769 ($1,988) per week
British (national curriculum of England)
Learn A quarter of Singapore's international schools teach the British curriculum, making it the city's most popular international system, according to ISC Research. The Tanglin Trust School (TTS), which also offers the IB, is one of Singapore's largest international schools, with 2,770 pupils aged three to 18. In 2016, 42 per cent of A-level students achieved A*/A grades, compared with a UK average of 26 per cent. University destinations included the University of Exeter, King's College London and the University of Oxford.
Pay S$43,461 ($31,200)
Live A 15-minute drive from TTS, or nine minutes on the MTR, this four-bedroom, unfurnished house next to the city's Botanic Gardens comes with a pool and Jacuzzi.
Available for rent through JLL, S$25,000 ($17,947) per month
American
Learn The Singapore American School has "high academic standards" and "superb" extracurricular programmes, reports the Good Schools Guide International. Its 36-acre campus is unusually large for high-density Singapore, though its location on the north side of the island leaves it up to 45 minutes' drive from some popular residential areas. Last year, students received offers from a wide range of universities, including Ivy League colleges.
Pay S$51,748 ($37,155)
Live Within walking distance — or a five-minute drive — of the school, a three-bedroom penthouse with a study and rooftop terrace with a plunge pool.
Available through Savills, S$2.1m ($1.5m)
French
Learn The Lycée Français de Singapour moved to its current six-acre site, 12km north of downtown, in 1999 and can accommodate 1,000 students aged two to 17. Pupils follow the French national curriculum, culminating in the French baccalaureate examinations, but some classes are based on British learning and are taught in English. Alumni have gone on to top-flight universities in France, the US and UK.
Pay S$29,500 ($21,180)
Live A seven-bedroom house on the Sembawang Hills Estate, close to a large park. It is 15 minutes' drive from the school.
Available through Savills, S$7.3m ($5.2m)
International Curriculum
Learn There are 1,700 students of 40 nationalities at SJI International School, which welcomes children of all faiths but has "a firm foundation" in Catholicism. Five- to 12-year-olds follow the international primary curriculum, while 13-18-year-olds pursue IGCSEs followed by the IB. Students' average IB score was 37.2 points in 2016. Students go on to study at respected universities globally.
Pay S$31,092 ($22,325)
Live The school is close to some of the most sought-after residential areas in Singapore: Districts 9, 10 and 11. It takes about 12 minutes to drive from the school to Napier Road in District 10, where a six-bedroom condo is on sale. Floor-to-ceiling windows overlook the Singapore Botanic Gardens, and the development has a 50m pool.
Available through Christies International Real Estate, S$23m ($16.5m)
Something different
Located about 4km west of downtown, Invictus Private School opened in 2016 as a "no frills" option for international students. Currently admitting six and seven-year-olds, classes follow the international primary curriculum. Fees are capped at S$15,000 ($10,772) a year — just don't expect the flashy facilities on show at Singapore's other international schools.
*Fees typically increase as the child moves up the school. The figure given is the annual cost of tuition for final year students, and does not include additional payments such as registration fees.
Photographs: ROSLAN RAHMAN/AFP/GettyImages; tobiasjo/GettyImages