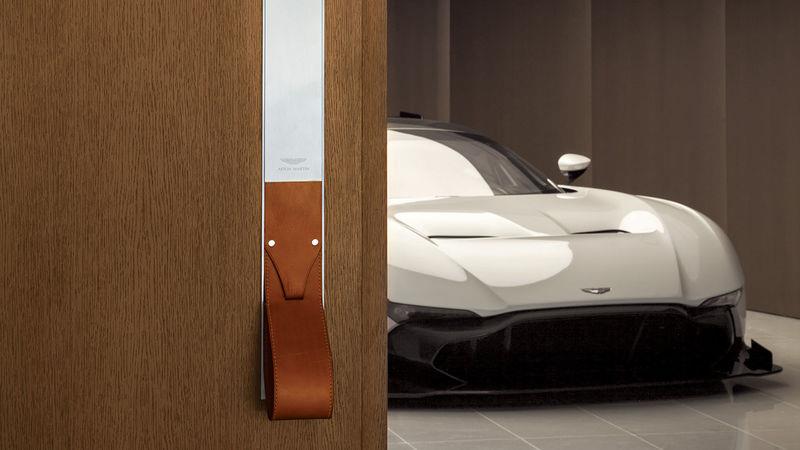 I always thought the entrance to the Savoy hotel on the Strand in London looked a little like a Rolls-Royce. That shiny metal portico resembles a radiator, with the illuminated canopies as headlights and there, right on top, a sculptural mascot. Occasionally buildings do come to resemble cars — those streamlined Deco hotels in Miami evoke the big, curvaceous cars of the 1930s.
In Chicago, there is a parking garage brilliantly built to resemble a radiator, designed by local postmodernist master Stanley Tigerman. But broadly, architecture is the antithesis of the automobile. It is permanent, massive and immovable.
So why are car manufacturers suddenly so interested in architecture? There has been a spurt of automotive-branded upmarket housing, most recently the launch of the Aston Martin Residences in Miami, a 66-storey streamlined skyscraper being built on Biscayne Boulevard Way. It has a cutaway to create a pool at the 55th floor and the whole thing looks like the tail fins on the huge American cars of the 1950s and 1960s.
Over in Dubai there are the Bugatti-styled villas at Akoya Oxygen, overlooking the Trump International Golf Club. Here you could continue to enjoy your car while sitting at home, viewing it through the glass-walled carport. A short drive away, at the St Regis hotel, you might want to stay in the Bentley Suite with its hand-tooled leather panelling and chairs, and precision metalwork — or you could stay in similar Bentley suites in New York or Istanbul.
Back in Miami, Porsche Design (not the carmaker itself but a design spin-off better known for sunglasses and other accessories) has launched the cylindrical 60-storey Porsche Design Tower.
The Porsche tower is the most accomplished of these designs. Simple, well-engineered and not trying to do too much, it is more like a piston or an engine component than a garishly flamboyant car showroom.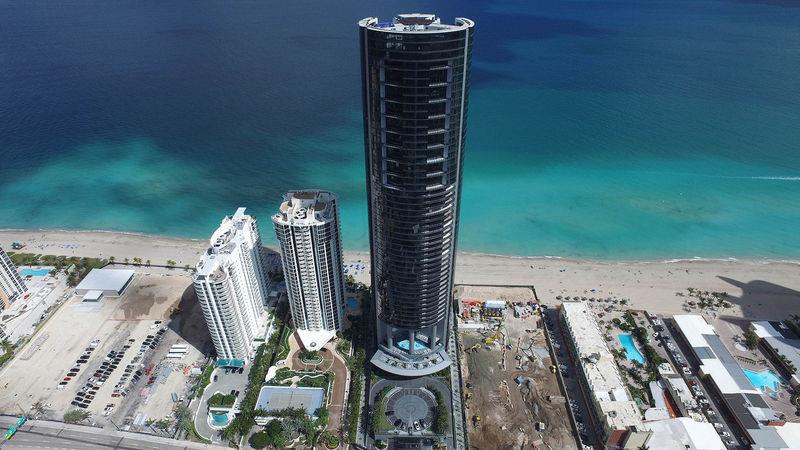 But what is the point of these collaborations and crossovers? What does property gain from the automotive tie-up?
The key, obviously, is branding, specifically brand recognition. The global high-end property market is increasingly crowded as developers compete for the same limited pool of mobile global wealth. The developments and the cities where they are to be found, whether Miami, Dubai or Singapore, are oddly similar: sandy beaches with beach clubs and beach bars; palm trees; endless air-conditioning, and so on. Prospective buyers need something to latch on to — and they like cars. So why not?
It seems like a decent match. Car interiors are finer, better engineered and more high-tech than apartment or villa interiors. They are put together in a factory under much more clinical conditions and they need to be infinitely more robust to resist crashing and rushing. Cars are highly engineered products, which is the image these towers and houses would like to project.
But there is a flipside: a car is the same whether it is in London — at least, excepting right-hand drive — Los Angeles or Monaco. It performs the same, it drives the same, it has no context except the road. But a dwelling is something different, something very unlike a car. It should ideally be somehow of its place, rooted to its landscape, its climate, its context and views, weather and cultural conditions.
Cars are frequently replaced; buildings need to last. So the comparison falls apart. In fact, what this phenomenon demonstrates is the way in which architecture is increasingly being globally marketed as a product or an object, rather than a place to live. It has become almost entirely deracinated.
Perhaps more interesting than these upmarket trophy homes have been the efforts of carmakers to break into mass housing. Toyota has been pioneering easy-to-assemble prefabricated houses in Japan for decades. Honda, too, has got in on the act, equipping its (rather ugly) houses with impressive smart-home technology.
What car manufacturers do so efficiently is produce safe, well-engineered products at low margins, constantly pushing and adopting new technologies. Housing as a typology is long overdue an injection of engineering and factory technology to pull an industry that is still mired in construction techniques from the Roman era into the 21st century, to address real housing needs.
Arguably, though, at the top of the heap of automotive designers moving into residential is one that is not focusing on houses at all but batteries. Tesla's Powerwall Home Battery, which stores solar power for later use, may be the most radical innovation in home technology, and has nothing at all to do with high-end housing.
There is probably no reason to suggest this trend for car manufacturers to stretch their brands into housing is going to end any time soon. Designers of upmarket homes still seem obsessed with cars: the proliferation of glass lifts in which to store your car as a kind of domestic fetish object and of see-through carports and garages show that the impulse is still strong.
At the moment, even the most prestigious marques can find it difficult to make money from cars alone, so why not sweat that brand recognition a little further? What would be more interesting, however, was if this became something more than an exercise in marketing.
The extraordinary research and sophisticated manufacturing techniques in the industry could beneficially be applied to housing design to make it cheaper, more efficient and more responsive. Tesla is showing the way. Will others follow?
Photographs: schwartz-media.com; Damac Properties; Aurelie Ternisien; Kiyoshi Ota/Bloomberg; Porsche